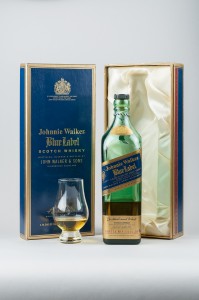 Name:
Johnnie Walker Blue Label
Spirit Type:
Blended Scotch
Age:
~20-30 years
Year Bottled:
1996 or so
Alcohol %:
40%
Color:
Amber
Chillfiltered and Colored
Date Purchased:
1997 or so
Information
My Dad has had this bottle of Johnnie Walker Blue Label on his shelf for many years, and he let me borrow it for a taste (Thanks Dad!).  The bottle was opened around the time it was purchased, and it has been on the shelf about as full as the photo for probably 10 years.  Some oxidation did occur in this time, but the spirit is still quite present
Anyways…
Johnnie Walker Blue Label was first introduced in the 90s as a luxury blend intended to reproduce the character of blends in the 19th century.  The current price seems to be $150-$200, which is incredibly high for a blend.  But technically speaking, given that they have all scotches (grain AND barley) at their disposal, they ought to be able to create the perfect scotch, right?  …. right?
Nose
Very interesting, and not at all like other (current) Johnnie Walker blends – very delicate, with none of the graininess.  Slightly earthy.  Hard apple candy and clean toffee syrup.  Slightly earthy with some dry tobacco notes.  Green grapes, watermelon, blueberries and raspberries, even roses.  Grows more citrusy with time.  Nice!
Only takes a tiny bit of water, by the way
Palate
Peppery.  A slight hint of sherry.  A little waxiness (like Clynelish), a little smoke, and a little tanniny.  Falls a bit flat, but this is semi-expected with the time this has spent opened on the shelf.  Still somewhat interesting
Finish
More tannins come through here, in an unpleasant manner.  Relatively short
Conclusion
After experiencing this, I'd love to try a newer Blue Label, but not at the price their asking.  Let me buy a sample bottle already!  Pretty good, and I bet it was tastier when it was first opened.
Overall Rating: 85/100
Compare To:
Johnnie Walker Blue Label (recent releases)
other $150 malts?
Johnnie Walker