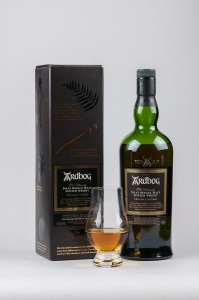 Name:
Ardbog (Ardbeg)
Spirit Type:
Single Malt
Age:
10 years (approximately)
Region:
Islay
Year Distilled:
2003-ish
Year Bottled:
2013
Cask Maturation:
Bourbon and Manzanilla
Natural Color, Non-chillfiltered
Alcohol %:
52.1%
Color:
Amber
Date Purchased:
2013.06
Price:
~100
Information
A 2013 limited release from Ardbeg, "Ardbog" is a uniquely named whisky and an interesting experience.  With Ardbog, Ardbeg is focusing on the peat – the packaging has many images and notes about the things that have been dug up on Isla.  It's a sort of mini-history lesson.
They've combined their core Ardbeg whisky (bourbon-matured) with Manzanilla cask matured Ardbeg.  Manzanilla is a sherry on the fino (or lighter) side of the sherry spectrum.  Quite a different taste from Oloroso and Pedro Ximinez.  Manzanilla is a very dry sherry, and it reminds me of mushrooms and mold.  This oughtta complement the story their trying to tell with Ardbog.  Let's see what we get…
Nose
Smoky, as you would expect from Ardbeg, but with a sherry-like influence similar to Uigeadail.  The sherry is more musty, however, and gives the smoke a heavy wetness.  Cocoa and charred wood (like a dying campfire).
Malty-sweet.  Lemon Rind.  The smell of a glass of water that's been sitting on your desk for a week.
With water, it becomes much fruitier.  Raisins and cantaloupe make an appearance.  After a long time sitting (and hour or so), toffee and wax.
Palate
Fiery without water.  Lots of smoke and that Ardbeg pepperiness.  Peat/dirt fades in and out.  Has a rich creaminess, most likely coming from the Manzanilla casks.
With water, grapefruit and a speyside-style sweetness appears.  That Ardbeg pepper sticks around.
Finish
Gently fading smoke.  Tannins like a sherry wine, and a light nuttiness at the end.  Yum!
Conclusion
Surprise!  Ardbeg has made another great whisky!  Of the core expressions, this is most like Ardbeg Uigeadail, but it has a very nice musty/dirty/peatiness that makes it a bit more unique and engaging.
If you're a lover of peated whiskies, this won't disappoint.  Very complex and rewarding.
Overall Rating: 90/100
Compare To:
Ardbeg Uigeadail
Lagavulin 16
Ardbeg