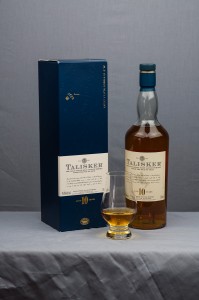 Name:
Talisker 10
Spirit Type:
Single Malt
Age:
10 years
Region:
Islands (Skye)
Year Distilled:
N/A (2002?)
Year Bottled:
N/A (2012?)
Cask Maturation:
Probably all Bourbon
Alcohol %:
45.8%
Color:
Amber + 1
Chillfiltered and Colored
Date Purchased:
2012.03
Price:
$60
Information
Talisker is the only whisky from the Isle of Skye.  It's a good one to try if you want to dip your toes into peated whisky. You'll get some smoke but it still has a very familiar toffee/vanilla flavor common to bourbon-matured whiskies. Is this the only Core/Base Diageo offering bottled at 46%?  I like that.  I could do without the coloring and chill-filtering, though.
Nose
Sweet pears, moderate smokiness, and a nice briny saltiness. Faint vanilla and white sugar.  With water (I recommend it), a good bit sweeter and less biting.  Somewhat tricky to nose as the smells are well mixed together and can be hard to pick apart.
Palate
Vanilla and a medium sweetness.  Honey, paper, and a little bit of wax.  Slightly bitter, with a lightly syrupy mouthfeel.
Finish
Average.  Again, slightly bitter.
Conclusion
Talisker is a great starter malt for the smoke-interested.  If you end up buying it, save some for later.  This was one of the first bottles of whisky I bought, and I found that over time I was able to get more and more out of this whisky.  It is definitely worth your time.
Prices seem to be increasing on this lately, so try to find yourself a nice deal if you want it.  If you can't get what you want, Caol Ila 12 is another great alternative.
Overall Rating: 87/100
Compare To:
Talisker