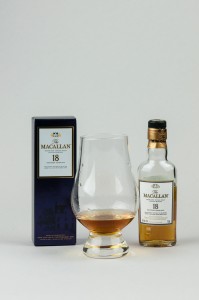 Name:
Macallan 18
Spirit Type:
Single Malt
Age:
18
Region:
Speyside
Year Distilled:
Not specified
Year Bottled:
Not specified (2012?)
Cask Maturation:
Oloroso Sherry
Alcohol %:
43%
Color:
Amber + 4
Date Purchased:
2012.09
Price:
Sample with Macallan 12
Information
The older and more refined brother of Macallan 12, the Macallan 18 comes in at three times the price.  If you can't afford a whole bottle, you can often find samples of Macallan 18 packed with bottles of Macallan 12.
Nose
Rich sherry syrup.  Deep red fruits.  Sweet apples and cocoa.  Much more balanced alcohol compared to Macallan 12.  Slight lemon and vanilla cream.  A hint of unlit match and dry woodiness.  Doesn't take too much water.
Palate
Oily rich.  Warm cloves, cinnamon, and cocoa.  The alcohol has mellowed quite well.  None of the bitterness of Macallan 12 – it seems replaced with a nice dry cocoa note.
Finish
A quick hint of pepper.  Medium in length – not as long as I expected.  Vanilla in the back of your throat.  Smoothly fades away.
Conclusion
The alcohol has softened surprisingly well.   This is essentially a richer, more mellow Macallan 12.  Again, a bit one-dimensional like the 12, but still well worth trying at least a sample.
Overall Rating: 87/100
Compare To:
Macallan 12
Glendronach 12
Aberlour A'bunadh
Bunnahabhain 12
Macallan