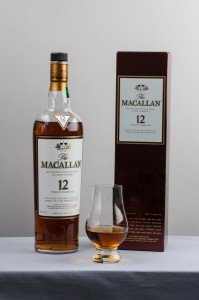 Name:
Macallan 12
Spirit Type:
Single Malt
Age:
12
Region:
Speyside
Year Distilled:
Not specified
Year Bottled:
Not specified (2012?)
Cask Maturation:
Oloroso Sherry
Alcohol %:
43%
Color:
Amber + 3
Date Purchased:
2012.09
Price:
$43 @ Costco
Information
Ah, the Macallan.  Thought by some to be the undisputed champion of sherried whiskies.  Is that true?  I'm not sure.  But everyone should have a taste of Macallan 12 at some point – especially before demand outstrips supply!
Nose
Your classic sherry bomb.  Rich druied fruits, brown sugar and spice.  Winey, red grapes.  Cloves and cinnamon.  Some sweet orange notes, and a hint of salt.  A bit of unlit match.  Has a similarity to Armagnac.
Palate
Sherry Sherry Sherry.  Syrupy mouthfeel.  Dark oranges, christmas spices, and sweet melon.  A hint of aged cheese bitterness.
Finish
Some similarities to Sherry.  Sometimes a bit off-putting, actually, but expected as it is sherry matured (sherry has a dry bitternes to it).  Medium in length.
Conclusion
A very well done sherry malt.  Strangely, I have to be "in the mood" for this one – sometimes it is great, other times it doesn't sit right.  When it's good, it's great, although a bit one-dimensional.
Overall Rating: 86/100
Compare To:
Glendronach 12
Aberlour A'bunadh
Bunnahabhain 12
Macallan