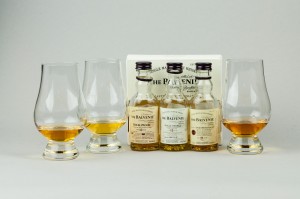 Name:
Balvenie Single Barrel
Spirit Type:
Single Malt
Age:
15 years
Region:
Speyside
Year Distilled:
Not Specified
Year Bottled:
n/a
Cask Maturation:
"Traditional Oak"
Alcohol %:
 47.8%
Color:
Amber – 1 (natural color)
Non chill filtered
Date Purchased:
2013.02
Price:
Gift
Information
I received a Balvenie sampler as a gift, and it contained this 50ml sample of Balvenie Single Barrel.  Normally Balvenie single barrel bottlings specify the barrel they come from, but the sampler size does not.  Also note that I've only had 50ml of Balvenie Single Barrel, but I split the sample into two separate tastings on two separate nights.
Be sure to check out my video comparing all three down there in the links

Nose
Tequila – fresh, peppery, grassy, somewhat earthy, but NOT youthful like tequila.  Straw.  Salted butter.  Soft vanilla, honey, light citrus.  Lemon and oats, stewed apples, light leatheriness (perhaps more of a shoe polish smell). After a good while (20 minutes), a nice white-sugar candy necklace note.
Palate
Vanilla, pepper.  Lemon rind and lemon pudding.  oily mouthfeel.  Light sweetness.  Very pleasant!
Finish
Finished like a fino sherry – a bit dry and bitter, but quite nice.  Medium length.
Conclusion
This is my favorite of the Balvenie expressions, by far.  The nose is quite complex, and the palate and finish are pleasant and interesting.  Quite well balanced, and MUCH better than Balvenie DoubleWood – I'm happy to invest the extra money for Single Barrel over the disappointing DoubleWood!
WARNING: Balvenie Single barrel is just that – a single barrel expression.  So what you get with each bottle will be different unless you've got the same barrel number on the bottle.  I don't have a barrel number for you because this is a sample size (I guess they don't put the number on the samples), so buyer beware!
Overall Rating: 88/100
Compare To:
Clynelish 14
Dalwhinnie 15
Balvenie Port Wood
Glenlivet 15 French Oak Reserve
Balvenie