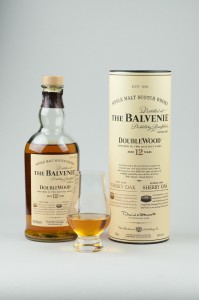 Name:
Balvenie DoubleWood
Spirit Type:
Single Malt
Age:
12
Region:
Speyside
Year Distilled:
not specified
Year Bottled:
n/a
Cask Maturation:
"Whisky Oak" and 3 months in Sherry
Alcohol %:
43%
Color:
Amber + 1 (colored)
Chill-Filtered!
Date Purchased:
2012.10
Price:
$40 (Trader Joe's)
Information
The Balvenie DoubleWood is the base offerning from Balvenie.  It is matured mainly in "Whisky Oak" (which is not a very common name but is most likely American Oak bourbon barrels) and finished for three months in Sherry casks.
You'll find a lot of people who love Balvenie DoubleWood.  I am not one of them.
Nose
Salty, almost like soy sauce.  Dried blueberries, sour cherries.  A slight sherry note that fades as the whisky opens up.  A hint of cocoa.  Bourbon vanilla, slight soapiness, and wet newspaper.
Smells younger than 12 years to me, like it has been aged in less active refill casks.
Palate
Salty, again.  Moderate pepper, toffee.  Tastes young.  Sherry at first, but disappears with water.  Surprisingly dry for a sherry-finished whisky.
Finish
pepper and toffee.  Nicely warm.  Better with a bit of water, which takes the edge off.
Conclusion
If you're looking for a good example of a poorly finished whisky, this is it.  They should have called this SingleWood and packaged it as such.  The Sherry-oak finish is just not very good, and it fades quickly, leaving behind a young-tasting 12 year whisky.  I consider Glenmorangie Lasanta to be a better Sherry-finished whisky – Glenmorangie's spirit seems to take better to finishing.
There are better drams for the price, and if you just add another $10 or $15, you can get something great.
Overall Rating: 82/100
Compare To:
Glenmorangie Lasanta
Balvenie Single Barrel
Bunnahabhain 12
Macallan 12
Balvenie