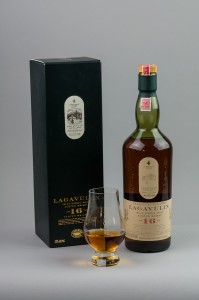 Name:
Lagavulin 16 Year Old
Spirit Type:
Single Malt
Age:
16 years
Region:
Islay
Year Distilled:
1995
Year Bottled:
2011
Cask Maturation:
Primarily American Oak(bourbon)Probably finished in Sherry
Alcohol %:
 43%
Color:
Amber + 2
Date Purchased:
2012.09
Price:
~$60
Information
Lagavulin is a Diageo-owned distillery and part of Diageo's "Classic Malts" collection, which seeks to represent various regions of Scotland.  Lagavulin whisky is rich, heavy, and full-bodied, but could do with a little bit better presentation in my opinon (make it 46% and get rid of the color/chill-filtration!).  Nevertheless, Lagavulin is a favorite of many malt lovers.  Its quality has not gone unnoticed!
Nose
Creamy vanilla smoke.  Licorice, coconut, and … wet candy cane.  Rich, earthy, and fruity.
Palate
Richly sweet at first, followed by a smoky crescendo.  Syrupy mouthfeel.  Wonderful balance between smoke and sweet dried fruit.  Does not taste like pure American Oak maturation (the reason I suspect the sherry finish).
Finish
Long, warm, sweet smoke.
Conclusion
Lagavulin deserves your time.  There are many more words to describe it than I've listed here.  In fact, it is one of those whiskies that I can't quite crack just yet – its depth is beyond my abilities!  I can only imagine how good it would be if they would present it properly!
Overall Rating: 90/100
Compare To:
Ardbeg Uigeadail
Laphroaig (18 or Triple Wood, perhaps)
Lagavulin