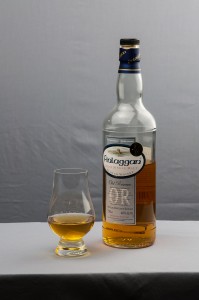 Name:
Finlaggan
Spirit Type:
Single Malt
Age:
Not Specified
Region:
Islay
Year Distilled:
Not Specified
Year Bottled:
Not Specified
Cask Maturation:
Not specified (probably Bourbon Oak)
Alcohol %:
40%
Color:
Amber
Date Purchased:
2012.06
Price:
~$20
Information
The mysterious Finlaggan Single Malt is most likely stocked from different distilleries. But it IS a single malt. This means that Finlaggan will probably taste different depending on where and when you buy it, but I have found its quality to be pretty consistent.
Nose
Nuts, sweat, and leather. Wet smoke, slight pepper. Salted peaches. Medium-rich sweetness.
Palate
Lots of nice tasting black pepper. Some salt, toffee, and smoke. Average mouthfeel. Not terribly complex, but what it has is tasty.
Finish
Pepper, toffee, slightly bitter lemon.
Conclusion
Well worth $20, and a great cheapie to keep on the shelf.  If it's available to you (I find mine at Trader Joe's), I recommend trying a bottle!
Overall Rating: 80/100
Compare To:
Bowmore Legend
Caol Ila 12
Laphroaig 10
Ardbeg 10
Finlaggan