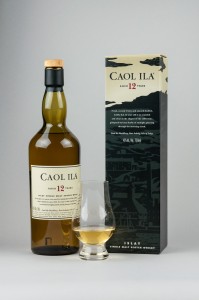 Name:
Caol Ila 12 Year Old
Spirit Type:
Single Malt
Age:
12 Years
Region:
Islay
Year Distilled:
Not Specified (probably 2000)
Year Bottled:
Not Specified (probably 2012)
Cask Maturation:
Ex-boubon Hogsheads*
Alcohol %:
43%
Color:
Amber – 1
Chill-Filtered, Colored
Date Purchased:
2013.01
Price:
$49
*according to Whiskypedia, Charles Maclean
Information
Caol Ila is primarily a blending whisky, being used in Johnnie Walker, Bells, and Black Bottle, among others.  Considered one of the "Lighter" Islay whiskies, in actuality it has quite a bit of flavor!
Nose
Balance!  Medium smoke, medium salt, medium iodine.  Honey, sweet lemon.  Hints of coconut, peach, and grapefruit.
Palate
Initial sweetness, followed by a growing smokiness.  Pepper, vanilla, and toffee.  well balanced.
Finish
Moderate smoke.  A bit dry.  A hint of nice bitterness.
Conclusion
For those who find Laphroaig to be a bit too Iodine or Ardbeg too bright, this is a great alternative.  The balance of this whisky is, in a word, incredible.  Glad I bought it at the price I did.
Overall Rating: 88/100
Compare To:
Laphroaig Quarter Cask
Ardbeg 10
Caol Ila