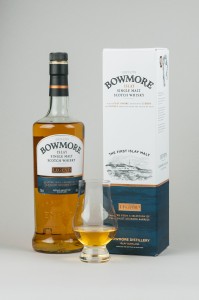 Name:
Bowmore Legend
Spirit Type:
Single Malt
Age:
Not Specified
Region:
Islay
Year Distilled:
N/A
Year Bottled:
N/A
Cask Maturation:
Bourbon
Alcohol %:
 40%
Color:
Amber + 1
Chill-Filtered and Colored
Date Purchased:
2013.01
Price:
~$25
Information
"Legend" is the entry-level whisky in the Bowmore core line.  A great introduction to Bowmore, but probably not completely representative if their quality.  Fun and very attractive at the price!
Nose
Shrimp? wet leaves, waxy newspaper.  Very gentle smoke.  Youthful, slightly salty.  Dry vanilla and spice.
Palate
Again, gentle smokiness.  Paper and dry vanilla.  Water doesn't change it besides reducing alcohol percentage.
Finish
Dry vanilla again.  Simple and short.
Conclusion
Unique among Islay whiskies.  At the price, Bowmore legend is almost irresistible on the shelf.  I recommend indulging at least once – this whisky is not perfect, but it definitely has something to offer.  I imagine it is the kind of whisky you may not like, so sample it if you have the chance!
Overall Rating: 80/100
Compare To:
Talisker 10
Finlaggan
Perhaps a peated mainland whisky
Bowmore