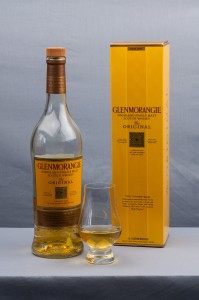 Name:
Glenmoreangie 10 Year "The Original"
Spirit Type:
Single Malt
Age:
10
Region:
Highland
Year Distilled:
2001
Year Bottled:
2011
Cask Maturation:
first and second-fill bourbon
Alcohol %:
43%
Color:
Amber
Date Purchased:
2013.03
Price:
$40
Information
Made using "the tallest stills in scotland", Glenmorangie is a delicate spirit and a great whisky for starters because of it's price and approach-ability.  The tall stills means the heavier flavors don't make it into the distillate (they are unable to escape the still!).  Glenmorangie has a lot of depth if you want to spend time with it, but is a great standard whisky for when you just feel like a dram.
Nose
Apples, fresh fruits.  Vanilla, honey, lavender and lilacs.  Very slight salt.  Buttercream and a hint of sweet copper.
Palate
Sweet honey, light caramel, hint of grassiness.
Finish
Gentle but lasting.  Honey and butter.
Conclusion
Glenmorangie is a whisky that I've tasted many times since I started with whisky, and I always find it interesting.  It's built in a way that matches your "tasting mood" – complex when you want it, and tasty when you just want some doggone whisky!
Overall Rating: 88/100
Compare To:
Auchentoshan Classic
Bushmills
Penderyn Madeira
Glenmorangie