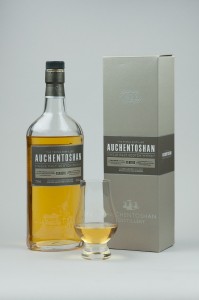 Name:
Auchentoshan Classic
Spirit Type:
Single Malt
Age:
Not Specified (my guess is 5-8 years)
Region:
Lowland (one of only three!)
Year Distilled:
Not Specified
Year Bottled:
Not Specified
Cask Maturation:
All Bourbon
Alcohol %:
 40%
Color:
Amber – 1
Date Purchased:
2012.12
Price:
$30
Information
The Classic is matured exclusively in ex-bourbon casks, which is relatively uncommon (most whiskies will have some sherry influence for balance).
Gaelic for 'corner of the field', Auchentoshan is the only triple distilled scotch whisky.  It's probable that Auchentoshan was founded by Irish distillers, thus the triple distillation (which is more common for Irish distilleries).
Nose
Youthful and a little hot (I recommend a touch of water).  Vanilla, pears. Powdered sugar icing, lemon oil. A copper note like a penny in soda water.
Palate
Clean and a bit hot again.  Corn syrup & honey.
Finish
A bit of saccharin.  Short, sweet, and off you go.
Conclusion
Basically, Auchentoshan did an incredible job creating an an 80-ish rated whisky.  It's not a life changer, but its very drinkable.  Great when you're not in the mood for a ton of complexity.
Overall Rating: 82/100
Compare To:
Glenmorangie "The Original"
Penderyn Welsh whisky
Bushmills White Label or Ten Year Old