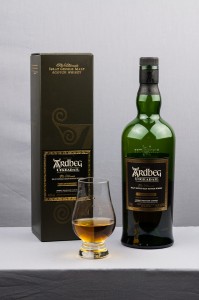 Name:
Ardbeg Uigeadail
Spirit Type:
Single Malt
Age:
Not specified
Region:
Islay
Year Distilled:
Not specified
Year Bottled:
Not specified (probably 2011)
Cask Maturation:
Bourbon and Sherry
Alcohol %:
54.1%
Color:
Amber + 2 (No color added!)
Date Purchased:
2012.03
Price:
$60
No color added, non-chillfiltered
Information
Part of the core Ardbeg range, Uigeadail is a powerhouse at 54.1% alcohol. Perfect for lovers of peat, sherry, and cask strength whiskies, it is a favorite of many Ardbeg lovers.
Nose
Smoke, dried fruit ("sherry"), salty nuts. Cologne, pepper, cedar wood. Musty and dense. With water, more sherry sweet notes.
Palate
Dense smoke.  Leather. Pepper, dried figs, brown sugar. With water, more sherry notes come out.
Finish
Sweet ham.  Smoke and caramel.  Long and warm.
Conclusion
A wonderful experience. If anyone offers you some Ardbeg Uigeadail, your answer should be YES! Well worth the price as well, especially when you compare it to other whiskies in the same price range.
Depth-wise, this whisky has a lot to offer. There are a lot of smells and flavors going on. The good news is this whisky can be enjoyed by newbies and experienced folk alike – it tastes great no matter what, and if you know what to look for you can have a great time smelling and tasting the beast that is Uigeadail!
Overall Rating: 90/100
Compare To:
Ardbeg Corryvreckan
Lagavulin 16
Laphroaig Triple Wood
Ardbeg