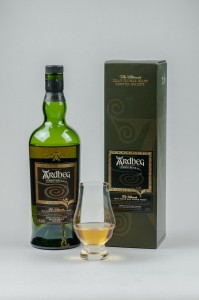 Name:
Ardbeg Corryvreckan
Spirit Type:
Single Malt
Age:
Not Specified
Region:
Islay
Year Distilled:
Not Specified
Year Bottled:
2011
Cask Maturation:
Bourbon and French Oak Casks
Alcohol %:
57.1%
Color:
Amber + 0.5
Date Purchased:
2012.11
Price:
~$75
Information
Currently one of the core expressions from Ardbeg.  Corryvreckan is bottled at 57.1%, similar to Uigeadail's 54.2%.  You can enjoy this one neat, but with a little water you'll get a some additional earthy notes.
Nose
Blackened ham, texas barbecue, mesquite.  Well humidified cigars and white pepper.  Dried raspberries and dry vanilla.  Dry overall.  Hints of salt and medicine.
Palate
A youthful greeting, sweet and woody.  Surprisingly balanced smoke and citrus.  White grapes.  Hints of mustiness and bourbon.  Somewhat thick mouthfeel.
Finish
Grassy bitterness, gentle warm smoke, and dry cedar.  Long lasting.
Conclusion
A delicious whisky.  My favorite of the Ardbeg core range.  I would be slightly happier if it was the same price as Uigeadail (~$65).  Nevertheless, Corryvreckan is an incredibly rewarding whisky!
Overall Rating: 91/100
Compare To:
Ardbeg Uigeadail
Lagavulin 16
Laphroaig Cask Strength
Ardbeg