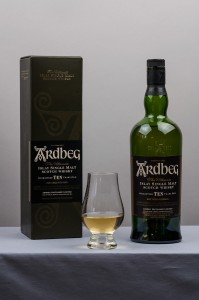 Name:
Ardbeg Ten Year Old
Spirit Type:
Single Malt
Age:
10 years
Region:
Islay
Year Distilled:
2001
Year Bottled:
2011
Cask Maturation:
10 years in Bourbon casks
Alcohol %:
46%
Color:
Amber – 4 (very pale)
Date Purchased:
2012.07
Price:
$45
Information
This is one of the core Ardbeg expressions.  The other two are Uigeadail and Corryvreckan.  The only source I can find states that Ardbeg is matured exclusively in ex-bourbon casks.  This is a bit of a rarity, as usually some sherry casks are also used (Remember – a single expression of whisky is a combination of many casks of whisky, unless of course it is a "single cask" expression).
Nose
Sour and bright.  Lemon.  Smoky, waxy, salty.  Warm smoke, sweet pepper.  Sick (as in vomit, but in an interesting way).  Slight soda bubble sensation.
Palate
Gentle beginning, followed by a burst of smoke.  Then the alcohol arrives.  Followed by more smoke.  Dry sweetness and some lemon rind.
Finish
Medium in length.  Slightly leather.  Pinch of bitterness near the end.
Conclusion
A great whisky.  I just purchased my second bottle of this, and I expect to continue keeping a bottle on the shelf.
Overall Rating: 88/100
Compare to:
Laphroaig 10 year old
Ardbeg Corryvreckan (Uigeadail has more sherry and is a bit different)
Kilchoman, perhaps?
Ardbeg