I've been tasting whisky for just short of a year now.  I've just started a series of whisky tasting videos where I compare whiskies, and I thought I should commemorate my first year of whisky enjoyment with a whisky of the year video.   So here it is:
Why did I choose Compass Box Great King Street?  Lots of factors:
Price – Cheaper than most single malts.
Availability – King Street whisky is readily available, but is also available in a 200ml bottling for folks like me who want a taste for less than the price of a whole bottle.  Awesome!  And much appreciated!
Taste – naturally it's interesting to nose and taste.
Company Transparency – this is overlooked often.  Compass box publishes their whisky ratios (although without specific distillery names) and cask usage ratios on the King Street website: greatkingstreet.com
The little things – King Street is the only bottle of whisky I've seen that specifically says "Non-chill Filtered" as well as "Natural Colour" right there on the bottle (I haven't seen even Ardbeg do that yet).  Again, much appreciated!
Presentation – not terribly important, but it's definitely worth putting some time into packaging and presenation, and King Street passes well past the bar here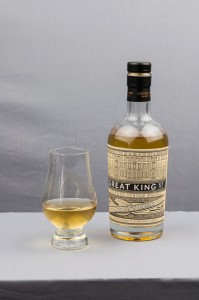 King Street has all of these, and it's got a great balance of depth and approachability (it's great as a first-timer whisky as well as experienced folks).  I highly recommend giving it a try, regardless of your experience with whisky.