I recently made dragon beard candy (view my photos). It turns out it's a lot easier to make than hand pulled noodles, but the general process for both is the same. The reason dragon beard is easier is because you can really take your time while making it, and it is very forgiving about mistakes.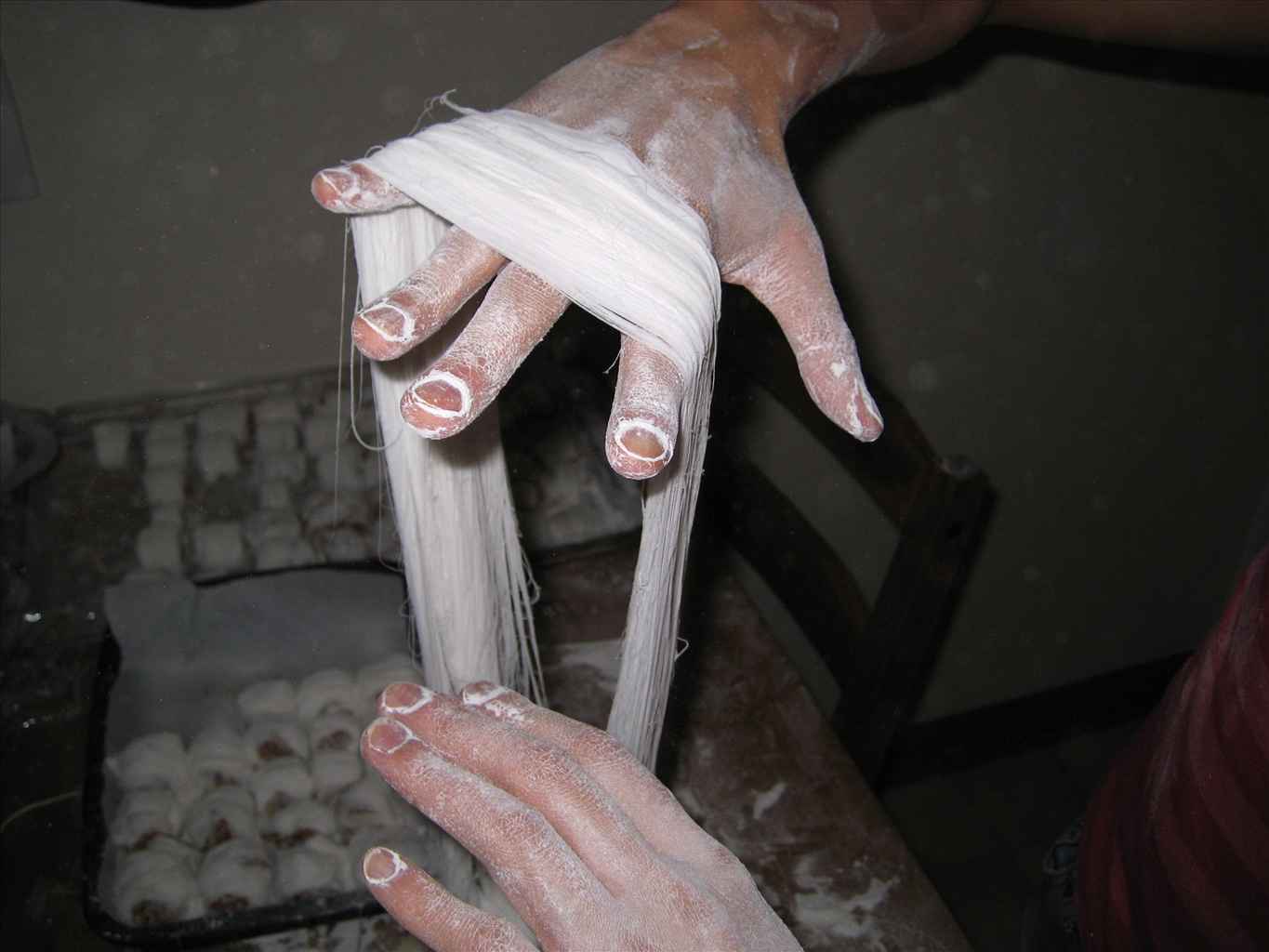 So I started by watching this video. Then I did a bunch of research on candy making. There are a few things to watch out for:
When heating to a specific temperature, accuracy is very important. A 5 degree (Fahrenheit) difference can change your candy completely.
When cooling your candy, it is in danger of crystallizing. Stirring it or bumping it can cause it to crystallize, so be careful.
You can protect against crystallization by adding vinegar or corn syrup (or both) to your recipe.
Then I experimented a bit with the recipe in the video. I found that:
You don't need that much water. The goal is to boil it off anyways.
Cooling the sugar to 100 C (212 F) before pouring it is a good way to crystallize your sugar and ruin the batch.
It's easy to crystallize the recipe anyways. Because of this, I modified it a bit by adding some extra corn syrup.
Finally, the recipe is WAY TOO BIG.
So following all that, the recipe I had the most success with is this:
Dragon Beard Candy
50g Maltose
500g Sugar
250g Water
1/2 tsp White Vinegar
100g Corn Syrup
Combine all the ingredients in a large pot, and boil. Once the temperature reaches 266 F, remove the mixture from the heat. Allow it to cool enough that the bubbles disappear and it becomes transparent. Rather than letting it cool to 212 F and risking crystallization at a low temperature, pour it into small cups immediately. I used little paper Dixie cups, and they didn't burn or melt. Be careful in your cup choice though, as I used some with a plastic coating that made things a little more difficult.
Pulling the candy is pretty straighforward. Youtube videos are a great help for learning how to do it. Remember to take your time, because the candy CAN break. If it breaks when its still a large diameter, most of the time you can just stick the broken pieces back together by pressing the ends together (sugar is good at sticking to itself). If it's really thin and you get a few broken strands, don't worry about it. If you just keep pulling it will work itself back in.
For the peanut mixture, I used peanuts (toasted and ground in a blender or food processor), sesame seeds (to taste), and a little bit of corn syrup to help it stick together nicely. The corn syrup allowed me to get a big pile of peanuts in each dragon beard candy. I like lots of peanuts

Again, here's a photo gallery of the pulling process. It was really a lot of fun to make, and it was A LOT easier than making hand pulled noodles. So if you're getting stuck trying to make noodles, take a break and make some candy for a while.